[ Home | Map | Layouts & Rates | Availability | FYI | Contact Us ]
---
Woodland Park Cottages FYI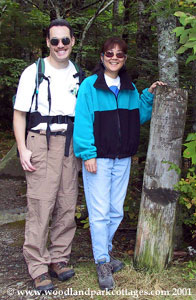 Managers: Paul and Julie Mun
History
Woodland Park Cottages was purchased by Dr. & Mrs Alton Mun in 1972. They started renting out the cabins in 1973 with the help of myself and my three brothers and sister. My parents always strove to offer clean, functional, spacious cottages where families like ours could come to enjoy the ocean, Acadia National Park and the natural beauty of Maine. Over the years all of us kids moved away so, when my Mother decided to retire in 1995, my wife and I moved from Hawaii to manage the cottages. This year Woodland Park Cottages as been in our family for 34 years! Julie and I are striving to continue what my Parents started and would like to offer you a base of operations for a great vacation!
---
Updates
Bar Harbor
Bar Harbor is placed a ban on plastic bags and Polystyrene containers so if you have some reusable bags at home you might want to bring them along!


Bar Harbor, Acadia National Park and the rest of Mount Desert Island
Maine made fireworks legal several years ago but decided to let towns ban their use. You can not use fireworks anywhere on the island!
---
Things to bring to a cabin or cottage
Cottage checklist for maine
Flashlight - It can get very dark here at night and a flashlight will help you get to the office or find something in the car.
Rain Gear - It does rain here occasionally so you may want to be prepared. Also works well as a windbreaker.
Clothing - plan on lots of layering so you can handle just about any weather! (In August it can range from 40 to 90 degrees in the span of a few days!)

Spring and Fall - the temperatures can range from the 30's to the 80's so be prepared. We even received a little snow on the first of October 2000.
Summer - in July and August it can drop down into the 50's at night and soar into the 90's during the day. Whale watching or nature cruises and the tops of mountains can be quite chilly as well.

Old Sneakers or Water Shoes - for exploring the shore and boating. Our cove is mostly rocky but there is some mud exposed at low tide. We have a 12 foot tide here so there is plenty of shore exposed to explore when the tide is out.
Cellphone Reception - Bar Harbor only has ATT and Verizon towers but many carriers have agreements with them so you may be covered?! We now have two towers, one from each carrier, within about a mile of us so reception is not too bad at our place. All the mountains on the island are in the national park and they don't allow towers on any of them so cell phone reception is very spotty to nonexistant at many places around the island! We have had great reception from the top of most of the mountains so head up if you need to make a call!
Spices for Cooking - so you don't have to buy a new container when all you need is a teaspoon of something for your blueberry pie or lobster newberg.
Fishing Gear - in July and August you can catch fish off the dock. I have a few poles but couldn't keep supplying lures so bring a few of those! Mid July thru August the schools of fish like shiny lures with a little weight so that they can be cast. Before or after those dates bottom fishing is best so you need to bait the hook.
Bottled water - the cabin's water is supplied by the town of Bar Harbor. It is not bad tasting but does have a chemical taste so some people prefer to use bottled water.
Family Service Radios - If you are traveling in a group we have found that these portable 14 channel radios can come in real handy. At our reunions held here (usually over 70 people) we have used them hiking, biking, road trips ("I think we make a right up here ..."), calling the kids up from the shore for dinner, keeping track of groups while shopping and helping find people when trying to pick them up from shopping! Be sure and get them with the security codes so you don't hear other groups talking. We found that units from the same manufacturers work better together especially if they have paging or other special functions.
Charcoal lighter fluid - People don't like to drive with lighter fluid so they usually leave it here. I have been telling people not to bring it and we have handed out gallons of it! We have finally worked through our supply so I can't guarantee that I will have any here. If I do, you can have it! You do have to supply your own charcoal.
---
Cabin Supplies
Checklist of Kitchen Supplies
We try and keep the cabins supplied with the following items. Some sizes are dependent on the number of guests the cottage will hold:
Table Settings:

Dinner Plates

Sandwich Plates

Butter Plates

Mugs

Cereal Bowls

Glasses

Lobster Crackers & Picks

Utensils: tsps, forks,

knives, soup spns,

Food Preparation:

Utensils:

Egg Turner

Egg Beater or Whisk

Dipper

Cooking Spoon

Draining Spoon

Wooden Spoon

Rubber Scraper

Grater

Potato Peeler

Potato Masher

Scissors

Long Tongs

Farberware Knife

Colander

Measuring Spoons

Cutting Board

Juice Canister

Vegetable Brush

Cork Screw

Pans, Stainless Steel:

Skillet with cover

2 qt. w/ cover

3 qt. w/ cover

8 qt. w/ cover

10 qt. w/ cover

16 qt. w/ cover

Appliances:

Propane Stove w/Oven

Refrigerator

Microwave

Toaster

Drip Coffee Maker w/filters

Pyrex:

9x13 Baking Dish

Pie Pan

3 Mixing Bowls

Measuring Cup
---
Next Years Reservations
If you would like to stay with us next year here are a few procedures we follow. We give our regular renters preference and start placing them in November of this year. If you know when you would like to stay with us please let us know and we will be happy to put you on a waiting list. On December 1st we try and place everyone on the waiting list and accept new reservations. Good luck and please let us know if you have any questions!
---
Downloads
1. Directions to Woodland Park Cottages from the Maine-New Hampshire border on I95. The State has changed the I95 exit numbers to match the mile markers! I have updated the directions to show the new exit numbers and mile markers. Here are my directions, complete with some photos to help you find your way!

https://www.woodlandparkcottages.com/DirectionsME-WPC.pdf (15mb)


The Maine Turnpike Authority has some information here:

Acrobat ".pdf" file of Maine Turnpike
2. Woodland Park Brochure (acrobat ".pdf" file):
Color (524k)- https://www.woodlandparkcottages.com/wwwpbrochurec.pdf
4. Desktops:
| | |
| --- | --- |
| Woodland Park dock: | |
---
[ Home | Map | Layouts & Rates | Availability | FYI | Contact Us ]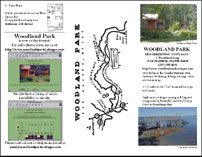 https://www.woodlandparkcottages.com

e-mail: woodlandparkcottages@gmail.com

Woodland Park Cottages, 3 Woodland Loop, Bar Harbor, ME 04609; (207)288-4016
copyright Paul Mun 1998